1. What this document discusses:
- Current state of chikungunya
- Continued risk for importation into the United States
- Need to counsel travelers to the American tropics on how to avoid such mosquito-borne diseases
2. Chikungunya Facts & Figures:
- Introduced in the Caribbean in December 2013
- Between December 2013 & March 2015, > 1.2 million cases reported in 44 countries & territories in the Americas
- Local transmission reported from
• ≅ every island in the Caribbean
• all countries in Central America
• several countries in South America
• parts of Mexico
- In 2014 ≅ 2,500 cases reported in US, ≅ all in returning travelers, except 11 locally transmitted in South Florida
3. Predicted length of outbreak in Americas:
- No way to predict
- May continue for years, with increases during rainy season, May → December
- Could become endemic like dengue in tropical areas of Western Hemisphere
- In most continental United States, sustained transmission is unlikely beyond South Florida & along US-Mexico border ← temperate climate and use of air conditioning
- Be aware of risk for importation among people who have traveled internationally in previous 2 weeks
- Dengue & chikungunya should be included in differential diagnosis of traveler with acute febrile illness & compatible travel history
5. Signs & Syptoms, treatment:
- Chikungunya more likely to → high fever, severe arthralgia, arthritis, rash, & lymphopenia
- Dengue more likely to → neutropenia, thrombocytopenia, hemorrhage, shock, and death
- Co-infection possible & reported in previous outbreaks
- Clinically similar → use acetaminophen to manage pain in people suspected of having one of them (aspirin or nonsteroidal anti-inflammatory drugs can increase risk of bleeding in people with dengue)
6. Public Health measures: Notification, patients' information:
- Both nationally notifiable conditions → report suspected chikungunya cases to local or state health department to facilitate diagnosis & mitigate risk for local transmission ← people with chikungunya develop a high viremia and can infect local mosquitoes if they are bitten
- Use primary care visits as an opportunity to ask about upcoming travel, particularly for patients known to be frequent travelers. Anyone planning travel to a tropical destination should be counseled on need to avoid mosquito bites
7. General protective measures : Avoid getting bitten
- Using approved insect repellent when outside
- Wearing long-sleeved shirts and long pants and socks as much as possible - Staying in air conditioned or well screened accommodations
8. Travelers at higher risk for more serious disease:
- People with serious underlying medical conditions
- People aged 65 or older
- Pregnant women infected late in pregnancy: risk of passing virus to newborn baby
- People with arthritis: higher risk of developing persistent joint pain after chikungunya infection
9. Read the transcript under the screen as you play the video again, then prepare a brief summary, you will have 2 mins to transfer the information to a colleague. Remember to adopt a top-down approach.
Watch the video & take notes on a sheet of paper
Once you have registered on Medscape, reach the page http://www.medscape.com/viewarticle/843623
When you have finished, click on each item below to see the answer.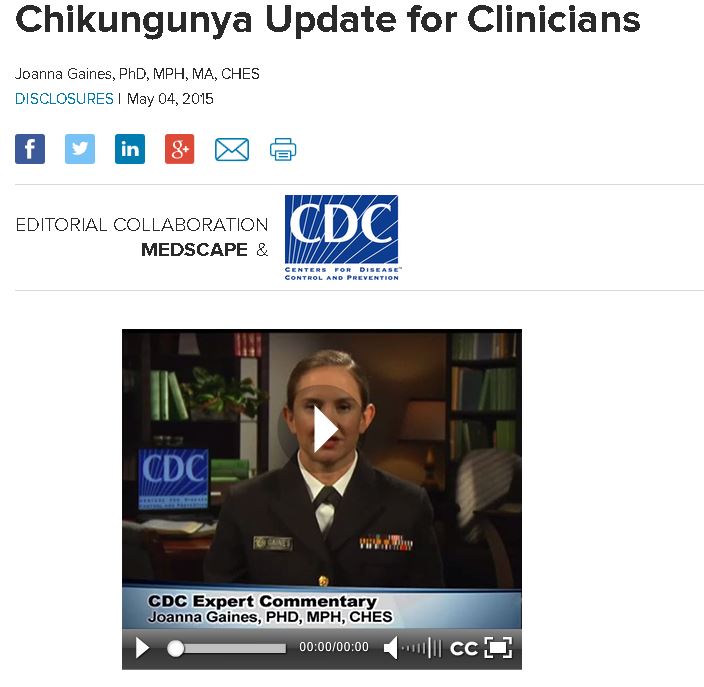 Chikungunya Update for Clinicians – Medscape – May 04, 2015.
UNF3S
Route 66 to medical literature, Félicie Pastore 2017